September 2nd, 2010
or…almost..huhuhu
Ho'la, The long awaited Hari Raya Menu is finally here!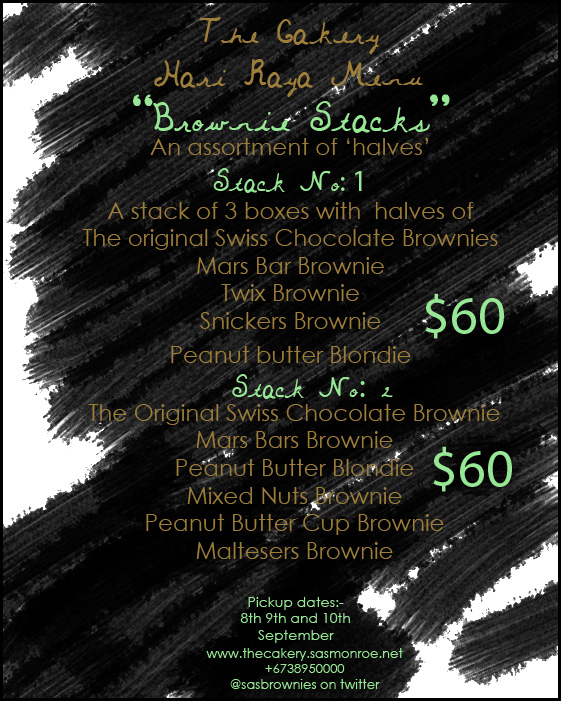 This Hari Raya, The Cakery is offering  special  'stacks'  for $60 per order……….come closer.. yes. closer,

I'm bulleting this whole post to make things 'easier' to understand.
Each 'STACK' contains 'HALVES' of the listed type of Brownie as shown in the poster above. So in other words each box from these stacks would consist of a combination of HALF DAT and HALF DIS and so on and so forth.
You can choose between Stack #1 or Stack #2.
These stacks make great Hari Raya gifts too , and upon request we will be able to 'ribbon' (using my signature two toned satin ribbons)  them together and include a limited edition The Cakery Hari Raya sticker for an extra $2.
Kindly note that these 'halvies' are only on offer for the 'stack' packages.

For those wanting WHOLE boxes of the normal range of brownies,you will still be able to pick from a choice of the following:-
The Original swiss chocolate brownie
The mixed nuts brownie
The peanut butter blondie
Candy bars brownies such as Peanut Butter Cups Brownie, Mars Brownie, Twixx Brownie and Snickers Brownie.
The Maltesers Brownie will be making its first appearance as a special Hari Raya addition to the candy bar brownie menu.
As you can see, i've limited the types of brownies that could be ordered for Hari Raya.This is because:-
THE Fudge brownies are tooo HIGH maintenance
The WHite Chocolate  requires too much of TLC
The CookieDoughs are a MONSTER to bake
Since its Hari Raya and i know that i'll be getting lots of orders, i feel that i should channel  all of my LOVE to the brownies that really matters to me the most..which are the FIVE brownies that i've listed above
HOWEVER. for THIS weekend SAT and SUNDAY (4th and 5th of SEPTEMBER) i will still be opening slots for the normal weekend menu. (more on this in my next post!)
How to order from the Hari Raya Menu?
Get your HARI RAYA ORDERS IN NOW by (ok, im having a Akademi Fantasia moment..)
BY Texting +6738950000 or @Sasbrownies me on
twitter
:
[Brownie Stack #1 OR #2] OR [WHATEVER TYPE OF BROWNIE U LIKE]  [PREFERRED DATE OF COLLECTION: 8th/9th or 10th of SEPTEMBER] [QTY] [FIRST & LAST NAME]
First and last name atu MESTI tu. Please ah please. haha just to make things easier around here Like i said, there's just too many Sitis and Bibis and Nuruls in this world …so an inclusion of your lastname would be PURRRRFECT.
luv u, peas u, brownies u..
Sas and her "Visual Assistant" , Tharwana
---